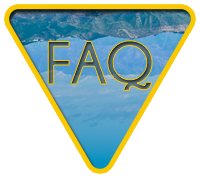 Frequently Asked Questions
Q: What do I get when I buy my photo from RockStorePhotos?

A: You receive an image captured exclusively with professional Nikon cameras bodies and the best Nikon lenses. Your photo will receive basic color and exposure balancing prior to printing or downloading. The techniques used to capture and prepare your photos for delivery have been honed by over 250 weekends worth of experience shooting on The Snake. The 550,000 photos posted here: http://www.flickr.com/photos/capfacsurf/ should give you an idea off what you can expect.

Q: Why is my digital download not available immediately?

A: RockStorePhotos produces a high volume of photos every weekend. To get all these pictures online in a timely and cost effective manner, we upload reduced-resolution versions to our site for your viewing/exploring pleasure. This reduces both the time/bandwidth required to upload pictures, and the space needed on our servers for all of your wonderful photos. When any order is placed, it is added to a queue, upon where it waits for the processing team to swap the reduced-res for the full-res picture in the requested dimensions. Depending on many variables such as [but not limited to] the number of orders, size of your order, time & day the order was placed, and the amount of coffee left, the turn-around may vary.

Q: So I understand why orders are not processed instantaneously, but how long will it really take?

A: Transparency is important to us and we would be disengaging your clutch if we were to guarantee a time frame. We aim to fulfill within 3 days but please allow up to a week. If there are any problems or we predict an extended delay we shall contact you. If you have any questions or concerns with an order please don't hesitate to contact us.

Q: I thought my photo was taken on [INSERT DATE] but I do not see my picture online...does RockStorePhotos not like me?

A: Depends :). But seriously, there are many variables that go into the production of your photos. We only post photos that meet our minimum quality standards. We try to shoot every moving object that passes our lens, however this is an ambitious goal. Opposing traffic, equipment glitches, and human error are some of the main culprits for missed shots. We use relatively slow shutter speeds in order to get a more dynamic photograph. This is more difficult, and leads to more misfires, but the pictures that do come out are most definitely worth it. Our goal is to provide you with the highest quality auto, moto, and velo action shots available anywhere.

Q: I am a regular on the snake, and you are not posting my pictures, whats up?

A: Digital photography is not without its costs. Equipment repairs and maintenance add up quickly. If we know there are a number of high quality photos of you that you have not expressed interest in, then the need to take more photos is not as apparent. It is not personal, but rather business. With that said, next time you want a photo stop by a photographer and let us know!

Q: The photos I see on my monitor look dark/blocky/over-saturated. Why?

A:

We all know that digital is just a bunch of ones and zeros. How those ones and zeros are viewed depends upon the screen or display you are using. If your computer monitor is not calibrated, the colors you see, the depth of blacks and overall brightness are going to differ from what I see on my calibrated monitors. Calibrating a monitor entails using a colorometer to adjust the brightness and color of images on a screen to match specific industry standards. So keep in mind that the variations between your monitor and mine will affect your viewing experience.

---

Q: What is the Custom Shop?

A: The Custom Shop is an available add-on for any photograph purchased from RockStorePhotos. It will apply to both digital and print products as an add-on for the selected photo, but can not be purchased independently unless you previously ordered a digital product. To learn more about the visual benefits you will receive through the Custom Shop check out the dedicated page here.

Q: I purchased a photo for digital download last week but realized I really want to get it tuned up in the Custom Shop, how can I do this?

A: If you already ordered a digital download of an image, but now want to put it through the Custom Shop, find your image on the site and add ONLY the Custom Shop product to your shopping cart for checkout. You have the option to add 'Instructions' to any item in your cart when checking out; in there we request you put the order number from your previously paid and downloaded photograph. This is the only way we allow a customer to checkout with only a Custom Shop add-on.

Q: I purchased a photo for print last week but realized I really want to get it tuned up in the Custom Shop before I receive my product. Is this possible?

A: Unfortunately it is not. To provide the plethora of products now available we work with 3rd party vendors. Once the order is fulfilled on our end, the order is submitted to them and is out of our control. To ensure this situation doesn't happen, make sure to order the Custom Shop add-on with an image whenever you want to guarantee the best possible results from your prints.